WFC Mag'
Financial inclusion remains an underdeveloped opportunity for the world economy
15 December 2022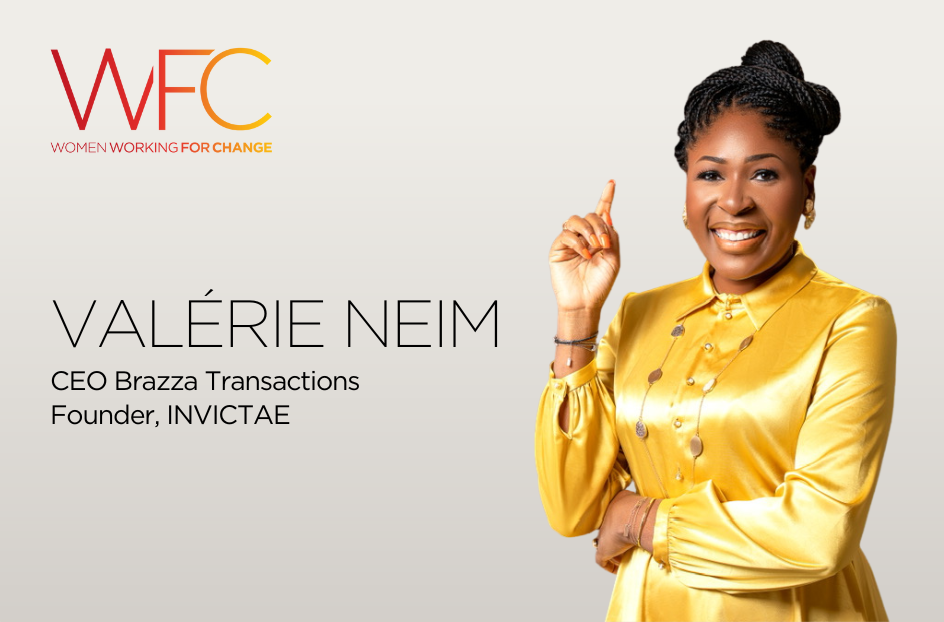 EN:
Founder of Brazza Transactions in Douala and CEO since 2019, Cameroonian leader Valérie Neim is an influential figure committed to female leadership.
After her stunning academic achievements, including a master's degree in entrepreneurship at Oxford, her professional career in Africa began with a chance encounter while on vacation in Cameroon. This meeting would change her life. Within a month, she left England for the UBA bank in Gabon, where she became manager for Prestige clients.
Faced with hostile remarks and behavior, Valérie Neim asserted herself in her role and results. A decade later, driven by her convictions, she launched Invictae in 2021, a club of influential African women in favor of overcoming gender inequalities in finance.
Interview.

Q: Can you tell us about your story? And how did you thrive in a male-dominated workplace?
Valérie Neim:
My name is Valérie Neim. I was born and raised in Cameroon and left Africa to pursue my tertiary education. While doing my MBA at Oxford, I knew I had a responsibility to support the development of my continent.

During my holidays in Cameroon, I had the opportunity to meet a woman leader from Côte d'Ivoire, Karine Lohoues. She invited me to an informal meeting with Jean-Luc Konan, an African banker and founder of the Cofina Group. Following our discussion, he immediately offered me a position as the Head of Prestige Banking at UBA Gabon. After several years working for TNT Logistics, Fujitsu-Siemens, and Santander Bank, I left the UK within a month.

When I started my new position, I was taken aback when people sent me letters saying, "We don't need a young girl who's not even married and without kids to come and tell us what to do". The more they did that, the more I was willing to show them that I deserved the position. Based on my stellar performances, Tony Elumelu, then the General Manager of UBA, invited me to work at UBA Nigeria. During that period, I also got a call from my unwell father, who needed me to lead our family business. I submitted my resignation four years later to head my father's company, CCPC Finance S.A., as the Managing Director for almost ten years.

Within that timeframe, I transformed the company's strategy. I expanded the company from three to 11 branches and our team from 30 to 200 people. While recruiting, my colleagues would ask me not to hire women. When I demanded why, they said, "You don't know local women and local mentalities. They will be pregnant, absent when on their period, sick, and come late because of childcare". My response was clear: "We will change the strategy and hire 99% of women in this company. I will prove that women can do what you do and do even better, whether pregnant, mothers or on their period. It is a matter of results. Let's check KPIs and leave out our emotions".
Q: Banking is a male-dominated industry. How have you dealt with this atmosphere as a woman?
After I left the banking industry, I realized that one of the banking products representing more than 30% of the margin was foreign currency. I, therefore, decided to apply for my license and create a Bureau de change (foreign exchange company), Brazza Transactions, primarily as a High-Net-Worth Individuals (HNI) advisor. We are currently the only female-led company to advise HNIs and the only Bureau de change licensed by a woman in Cameroon. Why? Because I have never been afraid. Too many women are scared to venture into male-dominated sectors. They close the door to opportunities by leaning into traditional gender roles or women-led industries from an early age. However, there is no such thing as a job for men and a job for women. It is time for all women and men to step into that truth.
Q: How can we make gender diversity an explicit business priority, and not just a check-the-box training session? Can you give any examples from within your organisation?
Financial inclusion remains an underdeveloped opportunity for the world's economy. Yet we can only improve upon this by encouraging greater gender diversity.
But how exactly can we make gender diversity a business priority? I recently launched a platform in Geneva called Invictae. Invictae means Invictus, which means "never defeated". The objective is to identify outstanding women leaders and promote their stories, and people can invite them onto the global stage and finance only when their stories are told.
We also need to set KPIs. In Cameroon, only 3% of homeowners are women, and 1.6% have a land title. Yet land titles remain the number one guarantee to access loans. This KPI demonstrates the need for law reforms. Corporate social responsibility should also be at the core of business strategies in companies and multinationals, focusing on gender quotas and diverse boards and executive bodies. Here, KPIs are also helpful in facilitating the fair promotion and recruitment processes between men and women.
Q: Can you then tell us what your approach is to African finance and what your view is of African finance today?
Africa has the youngest population today, and the lack of traditional banking infrastructure has made it the fastest-growing digitalized market in the world. Considering those factors, Africa has one of the most robust potentials to grow its digital financial market.
We also have most of the natural resources the world needs. But we must learn to protect them against the impact of climate change. As necessary, we must leverage these resources to attract foreign direct investment instead of receiving aid from outside the continent.
Finally, Africa is more aware than ever before. Recently, I saw on the news that the cryptocurrency company Yellow Card, founded in 2016, is already in 21 African countries. They recently raised $45 million, unheard of for a cryptocurrency business. It is a sign that African finance will improve on the continent as we take the lead in cryptocurrency technologies.
Q: How do we improve financial inclusion and promote the emergence of a truly pan-African financial services industry?
Africa should learn from the experience of the European Economic Area (EEA). By creating a continental economic area in Africa, our companies could access a market of 1.3 billion people. Therefore, we must build more robust regional and continental regulations, taxes, incentives and laws to transform this theory into a reality.
If investors are not confident in African political systems, we will continue to struggle to attract foreign investment. If investors see Africa as a structured region or a continent, we will have more of this type of investment.
Q: What can venture capitalists do better to address the gender funding gap in Cameroon and continentally?
Cameroon is a very fertile land, and women dominate its agricultural sectors. Agriculture should be our priority and handled separately by the government to attract more investment and fuel the economy.
How can they do that? By creating specific products adapted to agriculture in Cameroon and by lowering the rates of access to finance for women. Today, the rate of access to finance is between 10% and 20%, and for a key sector like agriculture, it should be at most 4% or 5%. The financing terms are also too short for women – six months to one year.
There is also a need to address unconscious biases and regulations among the banking services. For instance, in most African countries, women need to get the approval of their husbands to get a significant loan, which means that women will only grow if their husbands support their endeavors.
To drive venture capitalism in African countries, we need strategic information, sensitization, laws, quotas and a carte tailor products for women.
Q: What type of leader are you?
People refer to me as Margaret Thatcher or the Iron Lady. I make sure that there is a paradigm shift in my teams in terms of their mindset. I want them to aim for excellence. My mantra is "the best or nothing". If you can't have the best, then there is no point in doing it.
I am a very optimistic leader who sees the glass as half-full instead of half-empty. I am also a very focused and demanding leader; not everyone can work with me. Nonetheless, empathetic leadership is essential to me. In Africa, 43% of violence occurs in marriages, and 14% of women – if not more – are sexually abused once in their lifetime. Therefore, I must add much empathy to my work since violent experiences could hinder their potential.
Q: Do you play a role of sponsor to young women?
Sponsorship plays a huge role in my life. I am the patron of many platforms and always say yes when invited to women's leadership and empowerment initiatives. As a sponsor, I believe that by listening to women's career needs and challenges, you can help them go beyond their potential. I launched the Invictae platform to identify women across the continent and connect them to investors. I call that sponsorship because you connect someone to their needs without knowing they have that need. That is the role I play for women.
Q: And finally, do you have any tips to share with women working in very male-dominated environments?
I always say that the sky is the beginning, not the limit. The sky is your beginning. 
Don't be scared. Dream big and own your dream. If you are doing it, make sure you are the best in whatever you do. I take the example of Massogbè Touré Diabaté from Côte d'Ivoire. She worked hard to become number one in cashews in Côte d'Ivoire, and she is now a leading producer in Africa and the world. Another example is Daphne Mashile-Nkosi, number one in South Africa's manganese. It was not easy, but she believed in herself and achieved her goals.